Discover more from The Urban Lily Talks Tropes
Reflections on Asian Dramas
Life on Mars (2018) A Review
This post is an exact copy of a review that I posted at JangHaven Forums.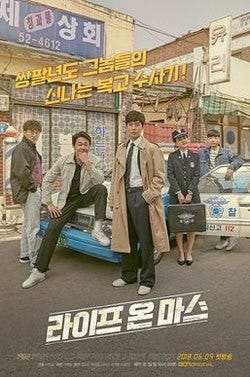 As someone who has a penchant for mind-bending, time travelling sci-fi, my view is that this is really one of the best from Kdramaland. I don't think there are sufficient hyperboles in my vocabulary to adequately express my love for this… what could easily be termed… masterpiece. It's not a word I use lightly or often but it is reserved for works of art that demonstrate thought and care.
The drama, in my opinion, succeeds on many levels, as a uniquely South Korean historical crime drama and as an adaptation of the popular British series of the same name. It's one of those rare adaptations that captures all that is good about the original while adding its own flavour in a spirit respectful to the source material. The main cast made up of Jung Kyung-ho, Park Sung-woong, Oh Dae-hwan, Go Ah-sung and No Jung-hyun is terrific but there's no denying that the drama belongs to the talented Jung Kyung-ho who is fantastic in what he achieves here as a man out of time.
Central to this mind-boggling piece of science fiction is Han Tae-joo, a highly competent present day detective with a bent towards criminal forensics and chemistry. He's a by-the-book-guy and is being "punished" for blowing the whistle on some shoddy policing. In an attempt to get back onto the field, he helps his prosecutor ex-girlfriend who is trying to nail a... yes… wait for it… a manicure-obsessed serial killer who is particularly adept at covering his tracks at the crime scene.
During a wide scale hunt for the killer, Tae-joo is shot for his troubles and then run over by a black vehicle. Like the BBC series, David Bowie's "Life on Mars" plays in the background before he falls to the ground and succumbs to his injuries. When he wakes up, Tae-joo finds himself right in middle of a main thoroughfare in 1988 with a complete costume change. This also marks his first encounter with Park Sung-woong's Kang Do-chul, his future frenemy at the police. The two butt heads from the word "go" and all manner of hilarity ensues when the two duke it out with words and fists.
The fish-out-of-water scenario is no doubt played up for every bit of humour as Tae-joo wanders around 1988, a confused lost soul, repeatedly questioning his own sanity when he hears voices, the sound of medical equipment, sees light flashes and when tv characters break the fourth wall. He can't work out if he's dreaming, hallucinating or sleepwalking. Moreover, 1988 South Korea is a different world to 2018. It is a place where "criminal forensics" is a foreign language, workplace sexism, as well as police overreach are par for the course. In other words, political incorrectness rules.
Tae-joo is kept busy by the seemingly anachronistic presence of the Manicure Murderer who seems to pop up like Wonderland's White Rabbit leading him on an endless chase for the truth. As he pieces various clues from the era to solve the serial murders of the future, he is forced to confront fragments of his own childhood memories that have been unresolved until now.
As time progresses, Tae-joo gradually becomes attached to the people and place he calls home in 1988. The quandary becomes more pronounced as the voices in his head and his grudging affection for his colleagues enact an emotional tug-of-war in which he doesn't know where he stands.
The best thing for me in this drama as someone who watched the original is how the show draws on stories from the original and adapts them in accordance to actual South Korean events into the storytelling. In terms of how it draws the audience in emotionally, I'd say that this version surpasses the original. Speaking as someone who was a teenager in the late 1980s, I adored the attention paid to props. It brought no small amount of nostalgia seeing typewriters and cassette recorders as part of the furniture.
Like the original this version keeps the audience guessing about what in the world is going on with Tae-joo. To avoid giving away too much I will say this. Just like the original, the ending of this will leave you wondering for days to come. The show can be interpreted in a multiple ways and I have my own views on this. Despite that I highly recommend this and it's a journey worth embarking on.