Discover more from The Urban Lily Talks Tropes
Reflections on Asian Dramas
Lawless Lawyer (2018) A Review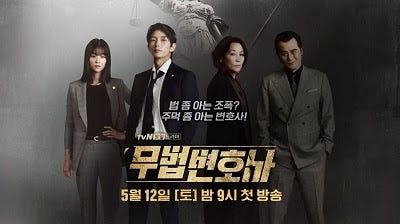 After spending 18 years in Seoul biding his time, Bong Sang-pil (Lee Joon-gi) returns to Gisung, the place he spent as a child with his working mother. It is also where he last saw his mother alive. Sang-pil barely escaped with his life and went to live with his gangland boss uncle (Ahn Nae-sang). As soon as the stars align ie. when a series of circumstances come into play, Sang-pil immediately heads back to his hometown in readiness to execute his scheme to take down those who are responsible for his mother's death. One event includes the suspension and sacking of another lawyer, the hot headed Ha Jae-yi (Seo Yea-ji), also an immigrant from Gisung. Although it isn't immediately apparent, he'd been observing her for a while. Eventually she becomes embroiled in his big revenge plot.
Sang-pil lives up to his appellation as a badge of honour, coming across more as a smooth-talking hustler than a serious trial lawyer. All of that belies a steely resolve and a deep personal anguish to see justice done. He keeps a statue of Lady Justice close-by as a reminder that he will exploit the law as his weapon to do what is necessary to right past wrongs. In their early interactions, Jae-yi is suitably unimpressed with Sang-pil who seems to her more like a trashy gangster who resorts to unethical means to get his way.
As Lawless Lawyer is less a crime show and more a revenge-political drama, it's never any mystery who the conspirators are. What we're privy to is a cat and mouse game initiated by Sang-pil and Co against the Goliaths of the city starting from the bottom feeders of the food chain. Our titular antihero sets up shop where his mother once had her law practice and manages to co-opt the idealistic Jae-yi to be his reluctant office manager as well as a motley crew of former loansharks. They are the show's unerring comic relief.
Read the rest at JangHaven Forums.