Discover more from The Urban Lily Talks Tropes
Reflections on Asian Dramas
Insect Detective (2020) Early raves and a rant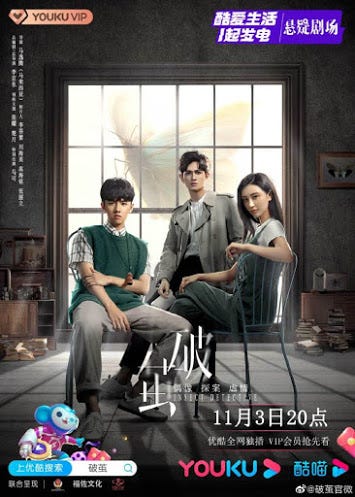 I have been known to enjoy crime dramas from Mainland China located in contemporary settings. I've watched a fair few in the past 12 months. Most of which are good. But for some reason the showrunners feel the need to include romance in all of them even when the chemistry isn't there to make it convincing. Is it some kind of requirement for the 24 episode format? Some sort filler perhaps because the cases themselves don't lend themselves to such a stringent requirement?
Those are the kinds of questions that preoccupy me as I chew through the storyline of Insect Detective. As a police procedural, it's actually very good. The cases that I've seen so far are, in my opinion, well thought out and scripted. There's a high degree of complexity in how the crimes are conceived and played out. The ensemble cast works well and the titular character, Jing Tian, a quirky if obsessed entomologist is nicely incorporated into the doings of the team comprising of the squad leader, a female coroner, a research cum computer expert and a couple of other detectives who do most of the leg work of chasing down suspects and clues. His expertise is well-used and not overdone to the point that he completely overshadows all the other specialists. Not part of the team but an integral part of the storyline is surgeon Wen Bai who figures as a person from Jing Tian's past. From their first encounter, the two hit it off like a house on fire. Or should I say... like lifelong friends. They have plenty in common and the Boston Red Sox is at the top of the list. Which in China, is rare. Much of their interactions see them bonding over baseball. But it does seem like Wen Bai knows a lot more about Jing Tian than he lets on. While Jing Tian helps the local cops with separate cases using his expertise with creepy crawlies, his primary preoccupation with crime is his mother's untimely death many years earlier.
Unfortunately I'm not feeling the romance that the show seems to be pulling for. It's not exactly front and centre but I'm getting more of a sibling vibe between coroner Jin Ling and Jing Tian rather than true love. So there's a clash between my perception and the show's intentions at least from where Jin Ling is situated. In all likelihood it's the kid that's playing Jing Tian who does come across as a man-child. A precocious one no doubt but his child-like ways don't seem to be a good fit for the obviously older and more worldly Jin Ling. What compounds that perception is the fact that the relationship or bromance between Jing Tian and Wen Bai is really good and seems to be focal point of the show's emotional arc.
Overall, it's a really good show that does an excellent job with the ensemble cast and the plotting. The juggling act so far is confident and remarkably cohesive. A pity about the lack of subs. Hopefully someone will be able to get to subbing it soon.